Calmplex Hall of Fame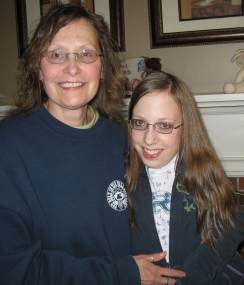 The Calmplex site honors Jasmin Floyd and her mother, RoJeanne, for courage, faith, and grace in facing Jasmin's rare bone disease. (Read more below.)

Soma blocks, also known as Soma cube, are sets of seven blocks formed from 27 small wooden (or plastic) cubes, glued into each possible irregular arrangement of 3 or 4 cubes. Pictured are the pieces from two colorful Soma cube sets:
I will give you a handmade wooden Soma cube puzzle as a gift from the heart if you give a gift from your heart.

Help support a courageous young woman!

The Calmplex site, dedicated to restoring faith in humanity, applauds the faith and courage of Jasmin Ariel Floyd, age 15, who has been suffering from a rare bone disease, FOP, since the age of five. She has her own greeting card business: jasminariel.com. On her site, you can learn more about Jasmin and FOP, purchase cards and gifts, and make a donation through the Amazon Honor System to help support Jasmin, her site, and her mission. Donations may be made anonymously (and your credit card info and address are never revealed), but you have the option of sending your name and email address if you click on the "send info" button on the thank-you page after making a donation. Jasmin and her parents are notified of date and amounts of all donations, whether made anonymously or with name included.

Terms may change over time, but for now, I will send a free handmade Soma cube wood puzzle upon request to those who make a donation of $50 or greater to Jasmin through her site. Just send me an email before or after making your donation to confirm the arrangements and specify a custom-painted set.

You can also help by pointing your friends to Jasmin's site and the IFOPA site.